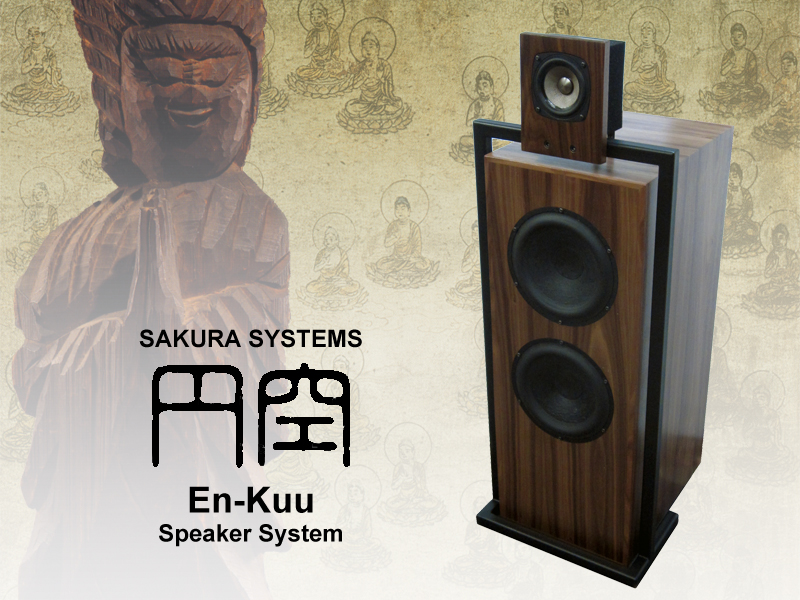 Featuring a new 4" driver dsigned by Takanori Ohmura

Based on the 4" full-range driver used in Lens Alnico model, the designer Takanori Ohmura modified it to suit En-Kuu configuration. The already ultra fast impulse response is further improved along with power handling capacity and efficiency.

With the main driver set in a small open baffle, covered by acoustically transparent polyurethane casing on the back, En-Kuu operates as dipole in most of the frequency range, achieving wide, open sound field while maintaining the pin-point imaging of a mini monitor.
The bass is augumented by 2 x 8" woofer (Scanspeak 21W/8555-00) in a sealed box, going flat down to 40Hz with still a strong response at 30Hz. The Scanspeak woofer is chosen for its seamless integration with the main driver and the superb performance in a sealed box cabinet.
The baffle section is completely separated from the woofer cabinet, connected only by the cables that feed the signal to the main driver. The supporting metal frame is silicone injected to prevent ringing.
The entire cabinet section including the baffles and the stands are made by New England craftsmans and assembled at SAKURA SYSTEMS.
| | |
| --- | --- |
| | |
Specifications

Frequency response: 40Hz~18kHz

Impedance; 4 ohms

Sensitivity: 91db 2.83V/m

Crossover frequency: 220Hz

Power handling : 100W

Dimensions: 40" h x 15" w x 17.5" d
(woofer cabinet 32"h x 12"w x 16"d)



Maple

Cherry

Walnut

Standard finish

Maple, Cherry, Walnut
semi-gloss
MSRP US$15,000/pair
(hand polished high-gloss lacquer finish US$18,000/pair)
Exotic veneer, automotive finish available on request





Dedicated Platform for En-Kuu

Because of its unique configuration, we custom made a dedicated platform for En-Kuu.
The platform abosorbs and decipates the resonant energy into the heat, and the detachable 3 point spikes further enhences its effectiveness by decoupling the entire system from the floor.



MSRP US$750.00/pair
En-Kuu is the name of the 17th century Japanese Zen priest/sculptor known for his dynamic style